PHYSIOTHERAPISTS
Kim and Lauren are a dynamic team that take a special interest in sports injuries, post-surgical rehab, orthopaedic and spinal conditions, as well as chronic pain management.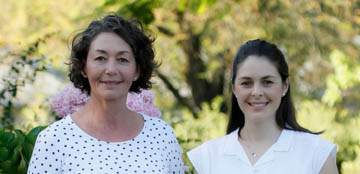 They are passionate about rehabilitating their patients to full function through specialized treatment, offering one-on-one Physio care as well as movement rehab classes.

Benefits of Physiotherapy
Physiotherapy can make a difference in an individual's ability to live an active, healthy lifestyle. For many seniors, disabled or chronically ill people, physiotherapy is the key to restoring and maintaining a level of physical function that permits independent living.

Physiotherapy benefits include decreasing pain, improving joint mobility, increasing strength and coordination and improved cardio-respiratory function. Everyone can benefit from physiotherapy whether you are living with a chronic illness, recovering from a work or sport injury

Pilates Group Mat Classes
Pilates is a low impact, gentle on joints and focuses on increasing core stability. You will develop increased strength, flexibility and coordination to maintain a healthy and active lifestyle.